Handling Business Post & Document Flow: Options for Businesses
Handling your outgoing business post can be time- and cost-intensive for some companies. But they have several options to send a letter in Belgium and abroad — and benefit from more ways to handle their document management.
Communication is key. Not only in personal relationships, but also in the professional sense: Successful businesses from various industries stay in touch with their client base to inform them of recent developments or special offers. But also beyond marketing and public relations, correspondence between a company and its clients or customers in the forms of letters or invoices is vital.
The kind of business post enterprises handle daily differs from company to company: Service providers and other businesses who do not sell physical products usually send more transactional documents like service statements, invoices, contracts, advertising, or any other kind of correspondence, while online retailers are more likely to ship a large number of packages in addition to these letters. The volume of the outgoing and the incoming post also heavily depends on the size of the company, with big corporations having to manage a much larger and more complex document flow than Small Medium Enterprises (SME).
Why Handling Business Post Efficiently Is Key
What all these businesses have in common regardless of size or industry is the need for appropriate document management and an efficient way to handle incoming and especially for your outgoing business post. In the best-case scenario, this enables companies to keep track of the overall document flow as well as the individual letters and thus allocate their resources accordingly. If the handling of your business post is not feasible with the resources available internally, outsourcing parts of the process, like shipping outgoing mail, can be a viable strategy to save time and costs. Depending on the service provider, this can even facilitate innovating the whole approach.
Business Post Belgium: Which Services Are Available Locally?
In Belgium, companies have three main options to outsource their outgoing business post in various processing stages. The first is to handle most of the incoming and outgoing mail themselves by printing shipping labels and postage stamps or having pre-printed stamps on hand.
They can then drop the post off with the shipping provider or have larger quantities picked up. This is similar to bpost's "Collect and Stamp" offer to private individuals and is also available through business-post service providers like EasyPost. This option is suitable for smaller businesses with a low volume of transactional documents to frank and send off on a daily basis.
As soon as the postal flow increases beyond a critical point, however, this approach could allocate too many company resources to a manual and repetitive task. By outsourcing, companies can then make use of potential cost savings. In addition, handling the post internally and manually offers no further document management, with tracking the individual mailings only being optional and often costing extra.
A second option for businesses with a higher flow of their outgoing post is a franking machine or postage metre. The companies still stamp letters themselves, but the device facilitates franking envelopes by selecting the appropriate postage based on the weight, dimensions, and destination of the letter.
Sending registered mail is also possible. It also makes billing and paying for postage easier, as it consolidates postage costs on a monthly basis in a direct invoice from bpost. Businesses can then opt to drop off the stamped envelopes at a post office or have them picked up by the service provider. Like with the first option, managing the overall document flow and individual letters is still up to the company — so while the franking machine makes part of the process easier and more efficient, it does not provide a streamlined approach overall.
Outgoing and Incoming Mail Management
The third and most comprehensive option is fully outsourcing the handling of your business post and document flow to a service provider like IPEX Group. This allows for a much more personalised approach based on the individual needs of the company and can include anything from address and document management, printing and stamping letters and sending them off to handling your incoming post or even collecting payments.
With a one-stop shop that covers the whole process from document data generation and template management to the final shipping of the business post, companies can not only free up internal resources to take on other tasks but also have various opportunities to analyse their document flow. They can thus identify potential to optimise, for example, which communication channels are valuable and which ones do not yield the desired results, or even further automate or digitise.
Depending on the tailor-made solution in question, tracking and tracing individual shipments or documents is also possible, including the option to integrate the Track & Trace link from bpost for registered mail into the IPEX Group system. Because this is the most comprehensive and sophisticated one of all three options businesses have in order to send off a letter in Belgium, using such services is most suitable for big corporations with complex document flows and a large volume of letters to send on a daily basis.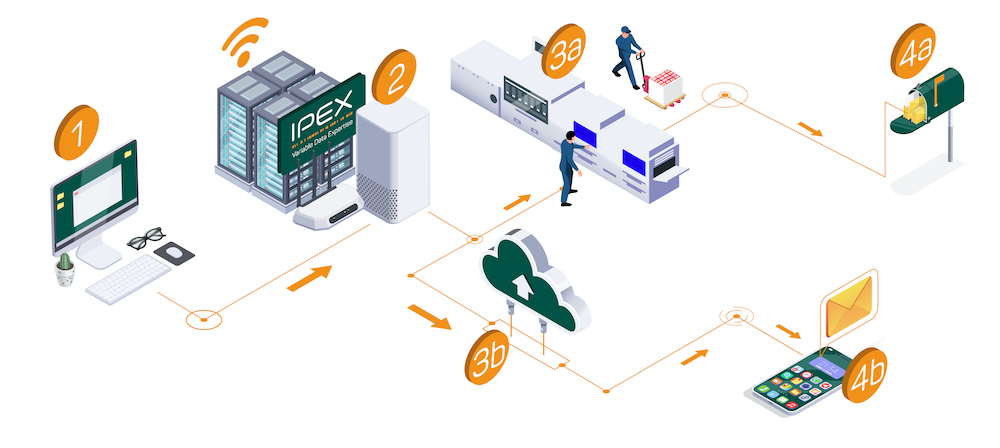 Pricing: Letter Rates
With three very different options to handle outgoing or even incoming business post, prices vary widely. With many service providers on the market, the postage per letter depends on the overall volume of documents to ship — the more, the lower the rate per unit.
Companies like IPEX Group are able to offer their customers the best postal rates regardless of volume: Currently, IPEX Group charges 0.60 euros for a standard non-priority letter of up to 20 grammes. But the price per letter also always depends on what else is included: Services like tracking, personalisation, enveloping, postal optimisation, automation, secure storage as well as analysis and data insight options like address management and customer profiles add much more value than mere postage.
Managing Business Post More Sustainably
Another benefit of using comprehensive solutions like IPEX Group is their ecological footprint: With most other service providers, letters are printed and possibly franked at the company's headquarters. From there, they need to be transported to the next bpost office or letterbox.
IPEX Group eliminates this step entirely by digitising the whole process: Customers can upload the documents to IPEX Group's digital platform, from where they are bundled, printed, enveloped, and franked if necessary. Consequently, there is no need to send cars to pick up your business post, which also cuts down on CO2 emissions and saves customers the time otherwise needed for transport.
But IPEX Group's digital approach does not stop there because not all business post needs to be in hard copy. Businesses can benefit from digitising their external communications even further by utilising more digital channels. This does not only relieve physical delivery routes but also makes tracking and tracing easier.
Digitalisation of Business Post
Especially with a more comprehensive approach to the handling of your business post and overall document flow, companies set themselves up for optimising their processes in the long run. This usually means streamlining, digitising, and automating parts of the document flow.
Digital workflows allow for full traceability on a document level and an overall more efficient way of handling even large volumes of correspondence. At the same time, shifting certain types of communication with clients and customers to digital channels, like sending invoices digitally or opting for e-mail newsletters instead of mailing paper ads, does not only save on paper but also gives clients the impression of a modern business and reaching the receiver via his preferred channel.
The future of communication is digital, so it is key to find a partner that also allows companies to make use of additional digital channels such as secure mail, commercial platforms, EDI environments, or e-invoicing solutions like Mercurius in order to fully benefit from digitalisation. Of course, using digital communication channels comes with its own requirements like data protection. But as with franking and sending physical business letters and managing their document flow: with the right partner by their side, companies can handle that with ease, too.
Are you looking for an expert provider in IT solutions for processing, personalising, and shipping transactional and promotional documents?
We optimise your document flow by combining paper and digital in a clear multichannel strategy that is adapted to your needs. For more details, please contact us at request_sales@ipexgroup.com