What is a franking machine?
What is a franking machine and how does it work?
In short, a franking machine is a machine that:
Weighs your mail
Calculate the correct postage rate
Stamps postage
Put your company logo or text on the envelope
You could state that a franking machine is like having your own mini post office within the four walls of your company where you can weigh and frank mail.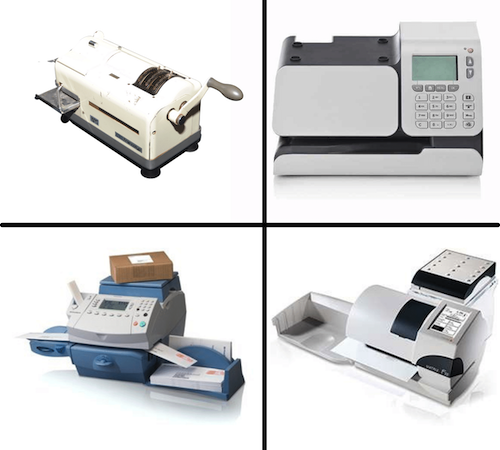 How does the franking machine work?
A franking machine is a metering device used to streamline the process of outgoing mail and postage. The franking machine stacks and organises metered or franked mail (depending on which franking machine you use, there is also a difference between older franking machine models and modern franking machines).
Franking machines work by weighing your post and applying a mark to the mail item. Franking machines are an essential part of mailrooms in companies where lots of mail is sent on a daily basis. No more standing in line to buy stamps or to have your mail franked at the counter of the post office.
The franking machine ensures that your mail is always correctly and automatically franked. With an internet connection, you can charge franking credits and the built-in scale calculates the rate after which you can simply stamp the envelope.
Stamped mail is then processed in the normal way, via the collection and delivery service, the letterbox or by dropping it off at the local post office.
A franking machine is so much quicker than sticking stamps on envelopes separately. The benefits are clear, the franking machine improves efficiency compared to manual work. Also, it gives you full control over who uses the machine and last but not least you can use it as a promotional and branding tool within your communication strategy.
Functions of a franking machine
A franking machine works quite simply. You can indicate on the display exactly what kind of mail you want to send. The franking machine then stamps the mail item. Most franking machines have an automatic scale function, which makes incorrect franking impossible. This method of working is many times faster than weighing the mail yourself, calculating the rate and applying the stamps.
Franking machines have other functions besides franking. For example, some machines allow for automatic mail input. This is very useful when you have a lot of mail to process at the same rate. It is also possible to print your logo or a text message on your envelopes. You can also provide your mail with a unique barcode, which helps reduce fraud. There are various types of franking machines, which can be equipped with multiple functions. For example, you can choose a franking machine with extra speed, or one that closes envelopes automatically.
Franking machine alternatives
Are franking machines still a viable option in the 21st century? What about other digital alternatives? IPEX is the modern franking machines alternative. Contact us for more information about a 100% outsourced and digitized transactional mail solution.